Driving east from Lake Houston, the crowded and congested FM 1960 quiets as it passes through miles of flat, green pastures east of Atascocita and Huffman lakeside communities. The road comes to a discreet end at State Highway 321 in Dayton, a city of about 7,200 that was once bisected by the Trinity River, with the two halves called West Liberty and Liberty until West Liberty morphed into Day's Town around 1854, and then Dayton 30 years later. Liberty proper still exists across the Trinity River, with a slightly larger population than Dayton as the Liberty County seat. Not unlike a lot of cities and towns nestled in riverbends, the landscape that envelops these Texas towns is lush and green with trees as far as the eye can see.
While many Houstonians have traveled the piney woods northeast of the vast metropolis, they may not be aware of the connection that exists between the Trinity River water that flows through its veins and the City of Houston, which lies miles to the west of the river. They might be surprised to learn that about 10 miles north of Dayton and Liberty on the Trinity River, crews have completed a project that will bring up to 500 million gallons of water a day (the equivalent of what it would take to fill up 250 elevated storage tanks) from the Trinity River to homes and businesses in north and west Harris County, north Fort Bend County, and Houston. Why? Because the city and its suburbs need it. In this context, the term "need it," means, "they won't be able to survive without it."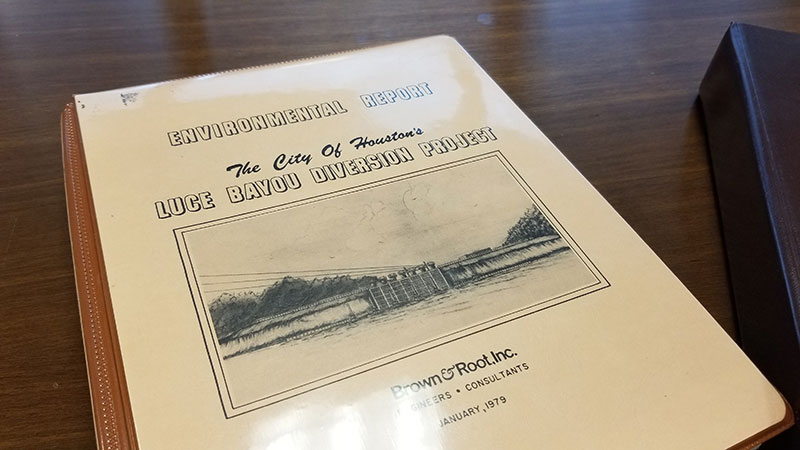 If the water is that important, then how does the City of Houston get it from Point A (Trinity River) to Point B (Lake Houston) so that it can be delivered to current and future water users in unincorporated Harris County, which now has almost as many residents as the city itself? It is a question that Houston's forefathers pondered long ago…and came up with a clever plan that is being carried out today.
The $350 million Luce Bayou Interbasin Transfer Project is a complex name for a straightforward and well-planned water delivery project that held a Groundbreaking Ceremony on February 24, 2017. The Coastal Water Authority (CWA), a conservation and reclamation district created by the State in 1967, is managing the project in its role as the City of Houston's surface water provider. The city owns the water and the CWA builds, operates, and maintains the systems, and gets the water where it needs to go. The City of Houston, North Harris County Regional Water Authority, West Harris County Regional Water Authority, Central Harris County Regional Water Authority, and North Fort Bend Water Authority are partners in the Luce Bayou project and are paying their fair share for equipment and pipelines that will treat, transport, and deliver the water from Lake Houston to points beyond.
"Water is the fuel that drives the economic engine," said Houston Mayor Sylvester Turner at the project's groundbreaking ceremony. "Without it, not only will you not grow, but you will be paralyzed where you are."
Turner said he is grateful that the regional partners are working together, because otherwise it would be difficult to carry out the massive Luce Bayou project.
"If we can dream it we can do it, and we are getting it done," Turner said.
Crews constructed the 5-acre Capers Ridge Pump Station on the river's west bank that will divert up to 500 million gallons of water a day from the river and pump it into side-by-side pipelines that could each easily fit a Ford F150 pickup truck with room to spare (8 feet in diameter). The water will flow underground through these dual pipelines for about 3.6 miles to a 20-acre storage and sedimentation basin near the secluded FM 1008, and then into a 100-foot-wide canal that runs 23.5 miles in a slightly southwestern direction across former rice paddies to the northeastern tip of Lake Houston.