Using Technology from the World Above To Monitor the Land Below
From feeds to our television sets to national security, the use of satellites has become almost commonplace, and our world of subsidence measurement is no different. In fact, Harris-Galveston Subsidence District (HGSD) began working with GPS technology as far back as 1987, and the class-A benchmarks established for that very GPS releveling have proven to be the most valuable benchmarks in the Houston area.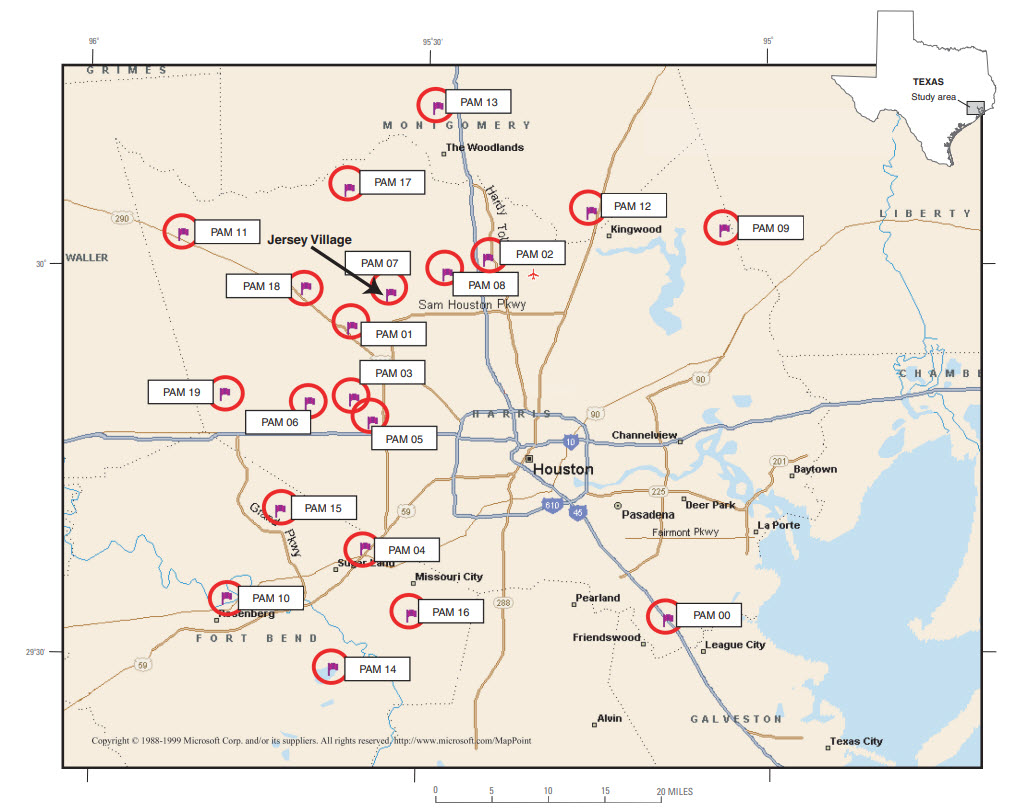 Locations of portable GPS measuring stations called Port-A-Measure or PAM sites in the Houston-Galveston Texas Region.
So what does HGSD gain from using GPS, and how does it differ from previous measurement methods?
One of the most important advantages to GPS is the ability to have constant data. Using dual-frequency, full-wavelength GPS instruments (with geodetic antennas), data is collected at 30-second intervals and averaged over 24 hours. That means that specific stations being monitored can be assessed on a daily basis. And just as important, the measurements are more reliable and handled at a fraction of the cost. Improved GPS techniques and processing have reduced the cost of releveling from millions of dollars to less than $100,000, and the data provided is accurate to + or – one centimeter.
Where are GPS measurements taken ?
GPS measurements are taken using a system of CORS and PAM's. Sounds complicated, but it's really quite simple. Because of the broad extent of subsidence in the Houston-Galveston area, there were no stable benchmarks. Therefore, stable borehole extensometers were equipped with GPS antennas to provide a reference frame to measure subsidence at other stations throughout the area. These permanent stations are known as local GPS Continuously Operating Reference Stations, or CORS.
In the mid 1990s, HGSD and NGS began developing the use of GPS Port-A-Measure, or PAM's., to provide subsidence measurements.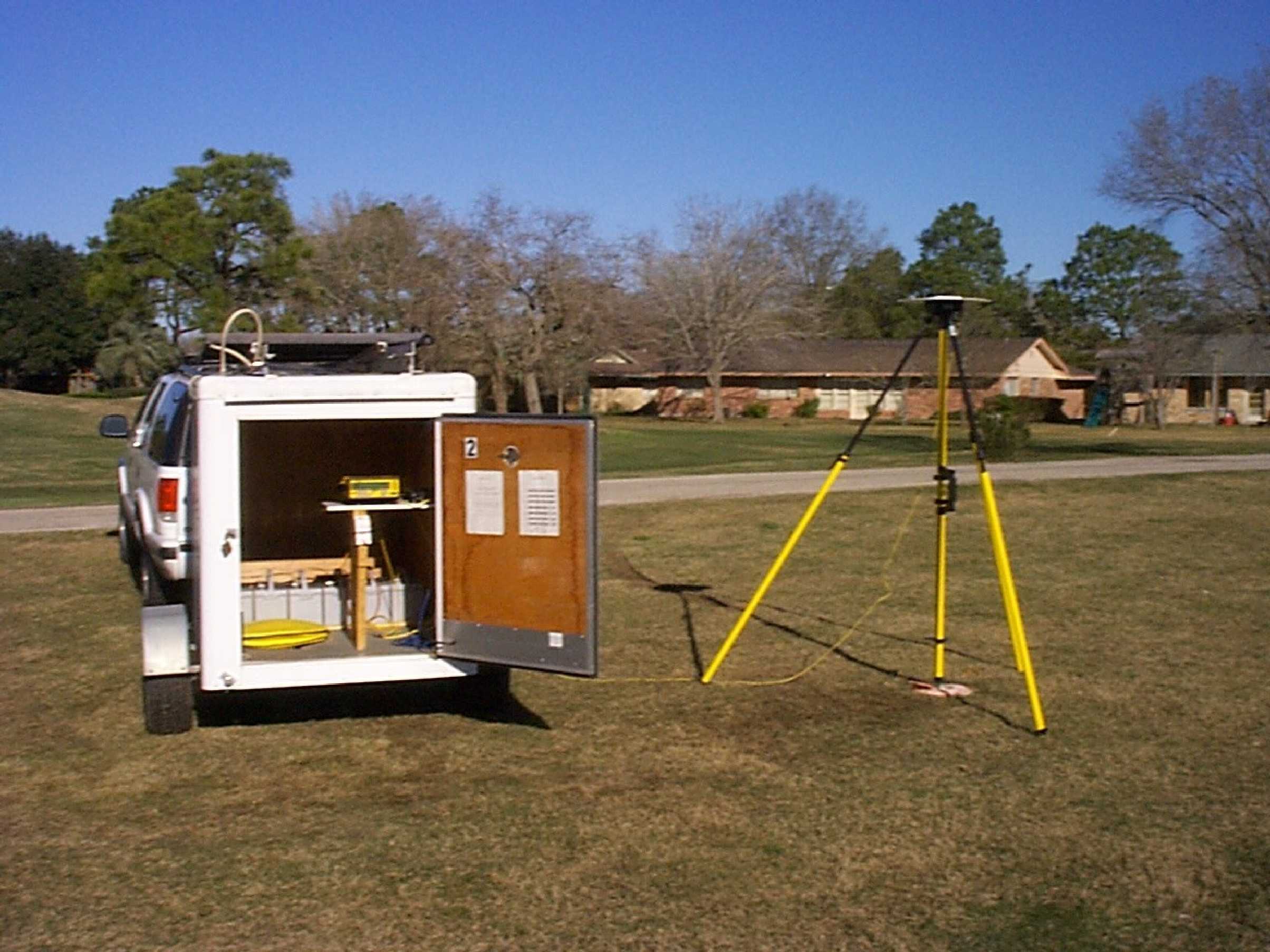 HGSD built seven portable trailers to house and secure GPS receivers and associated equipment (batteries, recording equipment and solar panels). The trailers are moved weekly to different PAM stations where they record Phase data every 30 seconds, allowing for a week's worth of observations on each PAM, every month. HGSD also operates four (4) permanent CORS, which provide Phase data continuously, providing a basis from which change comparisons may be made and analyzed.
In addition to the points operated by HGSD, there are a number of additional CORS and Cooperative CORS which can also be used for monitoring purposes.
They include:
Eight (8) CORS operated by TXDOT
Seven (7) CORS operated by the City of Houston
A CORS in Angleton operated by the U.S. Coast Guard
A WAAS (Wide Area Augmentation System) CORS in Houston operated by the FAA
Six (6) other Cooperative CORS throughout the area
All additional CORS are relatively new and will require several months before they can be reliably used for monitoring.
Historical comparisons between the existing CORS and PAM's. have indicated that some sites are subsiding at rates of seven (7) centimeters per year. This correlates well with rates observed at the Extensometers.
HGSD plans to double the number of PAM's. from twenty-eight (28) to fifty-six (56), and this will be accomplished without an increase in personnel, equipment and overhead costs. Improvements in GPS equipment have recently eliminated the need for the seven trailers, and they will be phased out in the near future. The expansion of the monitoring network will not only permit a more comprehensive view of what is occurring in Houston and the surrounding areas, but will also serve as a future model for other localities facing similar problems.
Source: hgsubsidence.org